BBC Packaging installed its first photovoltaic system in its Barcelona factory.
Our team continues to develop its operation. Today we present our photovoltaic system, which has used most of the roof area of our facilities.
This investment is part of our company's sustainability plan, which focuses on promoting the circular economy and drastically reducing CO2 emissions.
Committed to a better future.
Thanks to the installation of our photovoltaic system, we expect to achieve energy savings estimated to be equivalent to the reduction of 120 tons of CO2 emissions into the atmosphere. This figure translates into the planting of 170 trees per year and the avoidance of the extraction of 100 tonnes of fossil fuels per year.
CURRENT PLANT RANKING BBC PACKAGING MARCH 2022
Although this month of March has been an absolute record of consecutive days without sunshine. Our team is proud of the results achieved.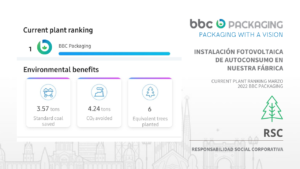 Standard carbon saved: 3.57 tonnes
CO₂ avoided: 4.24 tonnes
Equivalent trees planted: 6